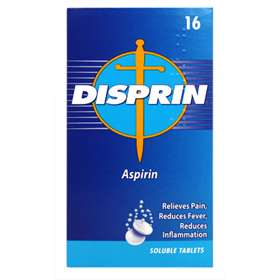 Click on image to enlarge



Price: £1.65 (incl VAT)
Sorry, this item is currently unavailable. Click here to receive notification when this product comes back into stock.
Disprin Aspirin Soluble Tablets are designed to target fever and inflammation as well as relief from mild to moderate pain. Disprin Aspirin Soluble Tablets are easy to swallow as they dissolve in water.
16 tablets.
Can be used for: headache, symptoms of cold and flu, toothache, period pains, sore throat, sciatica and neuralgia, migraine, lumbago and rheumatic pain, and fever.
Dissoluble in water.
Directions for Use:
Simply dissolve 2 to 3 tablets in water before taking. If needed take dose every 4 hours.
Do not exceed 13 tablets in a 24 hour period.

Warnings:
Do not take this product if you suffer from haemophilia, have/had a stomach ulcer, under the age of 16, or breastfeeding.
Seek advice from your doctor or pharmacist before taking if you are allergic to any of the ingredients, asthmatic, pregnant, or taking any other medication.
If symptoms persist consult your doctor.
Keep out of react from children.
Ingredients:
Each tablet contains: aspirin 300mg, calcium carbonate, maize starch, citric acid anhydrous, talc, sodium lauryl sulphate, saccharin, conspovidone and lime flavour.