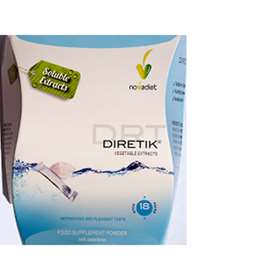 Click on image to enlarge



Price: £12.99 (incl VAT)
Sorry, this item is currently unavailable. Click here to receive notification when this product comes back into stock.
Diretik Vegetable Extract Sachets are a natural food supplement designed to help weight loss related to water retention. The formula helps eliminate excess fluids while maintaining the body's natural electrolyte balance. The unique blend of active ingredients ensure that the user will not feel tired and dehydrated, as can happen with similar products.


Suitable for vegetarians and vegans


No artificial preservatives


No added salt or colours


Diretik Vegetable Extract Sachets can also be used to help relieve mild menstrual bloating and restless legs.

Directions for use: Adults dissolve a stick pack in a glass of water (200ml) or a bottle of water (0.5L). For the first 7 days take one stick pack in the morning and another one at midday. For the following 4 days take one stick pack just in the morning. Repeat every two to three months. Recommended daily consumption 1-2 stick packs. Store in a cool, dry place.

Cautions and warnings: Keep supplements out of sight and reach of children. Food supplements should not be used as a substitute for a varied diet and healthy lifestyle. Not suitable for use in pregnancy. Do not exceed the recommended daily intake.

Ingredients: Maltodextrin, acidity regulator (citric acid), corn horse-tail, asparagus, java tea, bitter orange tree, common nettle, artichoke, aromas, powdered sugar beet juice, anti-caking agent (silicone dioxide), sweetner (sucralose).