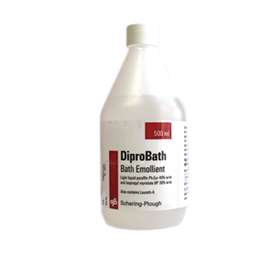 Click on image to enlarge



Price: £9.99 (incl VAT)
Sorry, this item is currently unavailable. Click here to receive notification when this product comes back into stock.
DiproBath Bath Emollient is a highly moisturising bath additive which relives dry skin conditions.


500ml plastic bottle.

Can be used in the bath or the shower.

Treats eczema, dermatitis, psoriasis and other dry skin conditions.

Contains Light Paraffin BP 46% w/w, Isopropyl Myristate SP.

DiproBath by DiproBase is a emollient bath additive. When you have dry and itchy skin it is important not to use conventional bath products, These products contain ingredients which irritate sore skin, bathing in this emollient is highly beneficial for dry/sensitive skin types.

Directions for Use: Add to the bath water as follows: For a full bath - add approximately 2-2.5 capfuls. For baths for children - add approximately 1 capful.

Warnings: Take care when entering or leaving the bath as it may be more slippery than usual.

Ingredients: Light Paraffin, Isopropyl Myristate and Laureth-4.