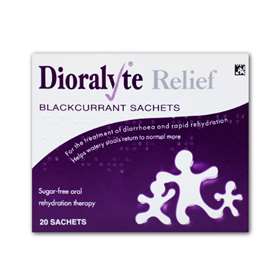 Click on image to enlarge



Price: £9.75 (incl VAT)

Your body needs the right balance of fluids and electrolytes to be able to perform essential functions and maintain your health.

Diarrhoea, long term health conditions, and sweating when exercising are just some of the reasons why your body loses water and important electrolytes (mineral salts), making you feel tired, unwell and can lead to dehydration.
Dioralyte targets dehydration following diarrhoea, helping your body:
Restore and maintain lost fluids
Replace essential electrolytes
...helping you feel better, quicker.
Use Dioralyte after each episode of diarrhoea as soon as the symptoms start. Simply dissolve in 200ml of water for a rehydration therapy which helps replace the vital fluids and electrolytes your body has lost through diarrhoea.

Directions for Use:
Dioralyte Relief Blackcurrant when made up is a milky coloured liquid.
1. Put the contents of 1 sachet into a glass and add 200ml of fresh drinking water. Where drinking water is unavailable use freshly boiled and cooled water. Stir the powder into the water until you get a milky liquid.
Not all the powder will dissolve but it is important that you drink all the liquid and do not leave any solid at the bottom of the glass. Do not rinse out the glass with more water.
2. Dioralyte should only be made up with water and to the volume stated.
A greater or smaller quantity of water will make the medicine less effective and could upset the balance of your body salts.
3. Dioralyte should be made up immediately before use and any solution not used after 1 hour should be discarded.

Ingredients:
Contains pre-cooked rice powder 6g, Sodium citrate 580mg, Sodium chloride 350mg, Potassium chloride 300mg.
Also contains: Aspartame, Hypromellose, Blackcurrant flavour, Ethanol





| | | | | |
| --- | --- | --- | --- | --- |
| Product code: 3673142 | | Price: £9.75 (incl VAT) | | |