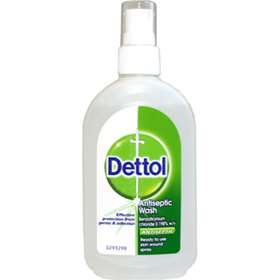 Click on image to enlarge



Price: £2.59 (incl VAT)
Sorry, this item is currently unavailable. Click here to receive notification when this product comes back into stock.
Dettol Antiseptic Wash 100ml helps prevent infection of minor skin wounds caused by cuts, skin grazes, insect stings and bites, small burns and scalds.
100ml.
For both Adults and Children.
Antiseptic spray to wash out wounds.
Clear colourless solution with a mild pine smell.
Dettol Antiseptic Wash 100ml can get rid of a wide range of bacteria that could be associated with infection of minor wounds.

Directions for Use:
For adults and children: Spray onto the wound until it is visibly wet and clean , and any dirt or debris have been washed away. If necessary, use a clean tissue or cotton wool to wipe up any excess liquid. Repeat as necessary.

*For use on the skin only*

Ingredients:
Dettol Antiseptic Wash contains Benzalkonium Chloride (0.198% w/v) as an active substance and also Propylene Glycol, Sodium Acid Phosphate, Water, Sodium Phosphate, Mild Pine Perfume, Disodium Edetate.

Cautions:
Do not use this product with soap or other surfactants as the active substance may be deactivated.
Do not use this product if you are allergic to any of the ingredients.
Do not use this product in large quantities on large areas of the body.
Do not use this product around the ears, eyes, mouth and on the genitals.
Do not use the product after the expiry date.
Do not inhale this product.
If this product comes into contact with the eyes, rinse with plenty of cold water.