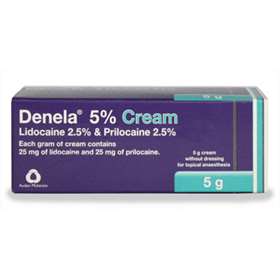 Click on image to enlarge



Price: £3.95 (incl VAT)
Sorry, this item is currently unavailable. Click here to receive notification when this product comes back into stock.
Contains two medicines called lidocaine and prilocaine. These belong to a group of medicines called local anaesthetics.
Denela cream works by numbing the surface of the skin for a short time. It is put on the skin before certain medical procedures to help stop pain on the skin.
Can be used to numb the skin before:
Having a needle put in (for example, if you are having an injection or a blood test)
Minor skin operations.
Some types of skin graft.
Cleansing or debridement of leg ulcers.
Note:
Read information leaflet inside pack thoroughly before use.

Ingredients:
Each gram of cream contains 2.5mg of lidocaine and 2.5mg of prilocaine.
Also contains: Macrogolglycerol hydroxysteararte, Carbomer, Sodium hydroxide and Purified water.