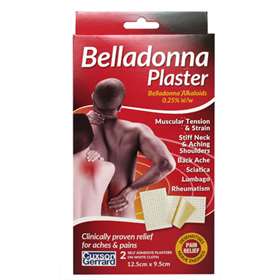 Click on image to enlarge



Price: £3.65 (incl VAT)

Cuxson Gerrard Belladonna Self Adhesive Plasters 12.5cm x 9.5cm (x2) Clinically proven to relieve aches and pains directly onto the skin to stimulates blood flow and desensitise nerve endings to ease muscular tension and strain. See also the full Cuxson Gerrard range. Gives pain relief to:
Lumbago.
Rheumatism.
Sciatica.
Stiff neck.
Aching Shoulders.
Back Ache.
Muscular tension and Strain.
Direction for Use:
For Adults and Children over 10 years only; Ensure the area to be treated is clean and dry.
Remove the backing paper from the plaster and apply to the affected area, The plaster should be removed after 2-3 days. Ensure that the plaster is dry before removing. Apply a new fresh plaster if required.

Cautions and Warnings:
Not for children under 10 years of age.
Do not use if you suffer from Glaucoma, are allergic to adhesive plasters, have inflamed skin, are using medication that contains . Antihistamines. Do Not use on the face.

Do not store above 25&deg.

Contents: TWO Plasters 12.5cm x 9.5cm
Active Ingredients 0.25% Belladonna Alkaloids, Lanolin, Natural Rubber, Partially Hydrogenated Wood Resins, Corn Starch, Kaolin, 2,5,Di-Tert-Amylthyhydroquinone.






| | | | | |
| --- | --- | --- | --- | --- |
| Product code: 4042826 | | Price: £3.65 (incl VAT) | | |