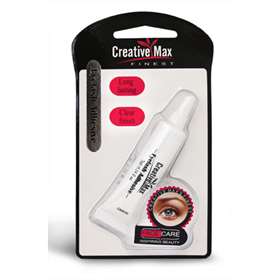 Click on image to enlarge



Price: £1.50 (incl VAT)
Sorry, this item is currently unavailable. Click here to receive notification when this product comes back into stock.
Creative Max Eyelash Adhesive for use with false eyelashes.Step 1: Check the fit, Align the band of the false lashes with your own lash line, trim the excess if necessary.
Step 2: Apply the adhesive, apply a thin line of glue along the band, wait 30 seconds to set.
Step 3: Apply lashes, secure the lash band by pressing onto the lash line.

Warnings:
Keep away from children.
Use only as directed.
Avoid getting into eyes, if contact occurs wash immediately with lukewarm water. Seek medical advice if skin occurs.
Ingredients: Rubber Latex, Aqua, Hydroxypropyl, Methylcellulose, Phenoxyethanol, C9-11 Alcohol, Sodium Salicylate, Methylpareben, Disodium EDTA, Butylparaben, Ethylparaben, Isobutylparaben, Propylparaben.