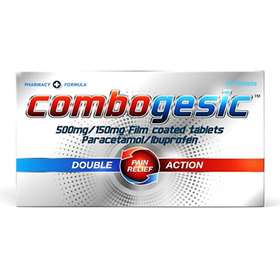 Click on image to enlarge



Price: £5.80 (incl VAT)
Sorry, this item is currently unavailable. Click here to receive notification when this product comes back into stock.
Combogesic Double Action Pain Relief are dual action relief tablets containing paracetamol and ibuprofen for the temporary relief from pain associated with headaches, migraines, backache, period pains, cold and flu symptoms.
Dual action tablets.
Contain paracetamol and ibuprofen.
For short tetm pain relief.
Directions:
For short term use only.

Suitable For:
Dosage:
Do not exceed:
For Adults only.
Not recommended for children under 18 years.
One to two tablets every six hours as required.
A maximum of six tablets in 24 hours.

Caution Do Not:
Take this medicine for more than 3 days without consulting your doctor.
Take more medicine than the dosage instructions tells you to.
Take anything else containing paracetamol while taking this medicine.

If you do not get better or get worse with new symptoms talk to your doctor.
Seek advice from a doctor immediatley if you take too much of this medicine, even if you feel well.
Please read enclosed information leaflet thoroughly before taking this medicine.

Do not take if you:
Have ever had a stomach ulcer, perforation or bleeding.
Are allergic to ibuprofen, aspirin or other related painkillers.
Are taking other NSAID painkillers, or aspirin with a daily dose above 75mg.
Are in the last 3 months of pregnancy.

Talk to a pharmacist or doctor before taking if you:
Have asthma, diabetes, high cholesterol, high blood pressure, had a stroke, liver, heart, kidney or bowel problems.
Are a smoker
Are pregnant.

Ingredients:
Paracetamol 500mg, Ibuprofen 150mg, Lactose Monohydrate.
As with all medicines keep out of the sight and reach of children.