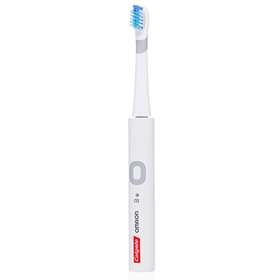 Click on image to enlarge



Price: £19.80 (incl VAT)
Sorry, this item is currently unavailable. Click here to receive notification when this product comes back into stock.
Colgate Pro-Clinical Electric Toothbrush C250 White is a rechargeable sonic toothbrush that is used to help provide unique cleaning action for healthier teeth and gums. This colgate electric toothbrush also helps minimise the amount of plaque that forms in the mouth.
2 year limited warranty.
Triple clean brush head.
Sonic vibrations clean with up to 25,500 strokes/min.
2 minute timer.
30 second pacer.
Travel cap included.
Soft bristles gentle on gums.
Charger included.
30 day satisfaction challenge guaranteed.
Advanced Cleaning Technology:
Unique cleaning action combines both up-down and side-to-side strokes in one brushing mode.
Sonic vibrations clean with up to 25,500 strokes/min to remove plaque.
For Healthier Teeth and Gums:
Interdental - Cleans deep in-between teeth.
Teeth - Superior cleaning and plaque removal.
Gums - Improves gum health.
Intelligent Design:
Sleek, light-weight and slim design.
Compact size for every storage and travel.
Hygienic travel cap.
Directions of Use:
Wet brush, apply toothpaste. Put brush in mouth; press ON.
Move brush slowly over teeth.
Brush pivots from side-to-side to up and down. Cleans between and behind teeth, molars, and along the gum line.
Timer alerts every 30 seconds to brush different area of mouth.
Brush stops after 2 minutes.
Rinse brush. Wipe or shake off water.
Cautions/Warnings:
The supply chord cannot be replaced. If the chord is damaged the appliance should be scrapped.
The appliance can be used by children aged from 8 years and above and persons with reduced physical, sensory or mental capabilities or lack of experience and knowledge if they have been given supervision or instruction concerning use of the appliance in a safe way and understand the hazards involved.
Children shall not play with the appliance.
Cleaning and user maintenance shall not be made by children without supervision.
Use the toothbrush with brush heads and charger provided by manufacturer only.