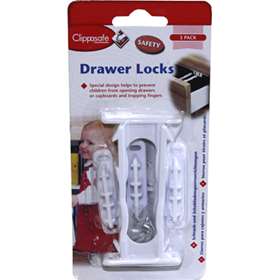 Click on image to enlarge



Price: £2.10 (incl VAT)
Sorry, this item is currently unavailable. Click here to receive notification when this product comes back into stock.
Clippasafe Safety Drawer Locks 3 Pack helps prevent children from opening drawers or cupboards. These locks have an anti-finger mechanism which stops drawers or cupboards trapping their little hands or fingers.
Instructions on the back of pack.
Anti-finger trap.
3 Pack.
Keeps children safe.
Easy to use and apply.
Fitting instructions:
Screw catch to the underside of the front cabinet frame, at least 25mm from the side. If fitting to a cupboard, the catch can alternatively be fitted to the inside wall.
Insert and engage both prongs into the catch, and hold the base of the prong component firmly to the inside of the drawer or cupboard door. Ensure that the prongs are horizontal and engage the centre of the apertures in the catch. Mark the centre position of the screw holes.
Secure mount the prong component using the screws provided.
Check operation and adjust position of the prongs and/or catch if necessary.
To open: Pull open drawer or door slightly. Squeeze prongs to disengage catch and open draw fully.

To close: Close drawer or door until anti-finger mechanism engages, then squeeze prongs ad close drawer or door fully.

Caution:
There is no substitute for proper adult supervision.
This product is only a deterrent - discontinue use when child is able to open it.