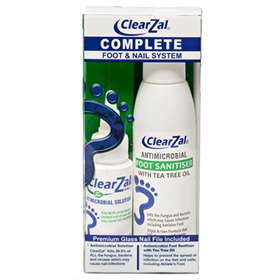 Click on image to enlarge



Price: £23.85 (incl VAT)

Antimicrobial Nail Solution
Uses:
Kills germs that may cause nail infection.
Works on and through the skin around the nail and under the free edge.
Directions for Use:
File the free edge of the nail as required.
Clean the nail and the surrounding skin and dry thoroughly.
Apply the solution under the free edge of the nail and the surrounding skin.
Allow to dry or massage into the skin.
Use twice daily, morning and night.

Warnings:
For external use only.
Keep out of reach and sight of children.
Avoid contact with eyes.
Irritant.
May cause skin reaction.
Pregnant and breast feeding women should refrain from use.

Diabetics and people with poor circulation should always seek medical advice before using footcare products.

Ingredients:
Purified Water (aqua) • Cocamidopropyl Betaine • Cocamidopropylamine Oxide • Hypromellose • Cetrimonium Chloride • Organic Aloe Vera • Didecyldimonium Chloride • Diazolidinyl Urea • Quaternium-15 • Methylisothiazolinone • Phenoxyethanol • Triethanolamine • Citric Acid.


Antimicrobial Foot Sanitiser with Tea Tree Oil
Uses:
Helps kill the fungus and bacteria that may cause infection including Athlete's Foot.
Helps prevent the spread of foot and nail infections with regular use.
Controls foot odour with repeated use.
Directions:
Spray each foot on the top, bottom and between the toes once daily.
Massage thoroughly into the skin.
Spray inside shoes prior to putting on and after removing.

Ingredients:
Distilled Aqua • Aloe Vera • Cocamidopropyl Betaine • Propylene Glycol • Methylchlorisothiazolinone • Cocamidopropylomine Oxide • Tea Tree OIl (Melaleuca Alternifolia) • Benzethonium Chloride • Cetrimonium Chloride • Diazolidinyl Urea • Fragrance • Citric Acid • FD&C Blue #1 •





| | | | | |
| --- | --- | --- | --- | --- |
| Product code: 3845963 | | Price: £23.85 (incl VAT) | | |