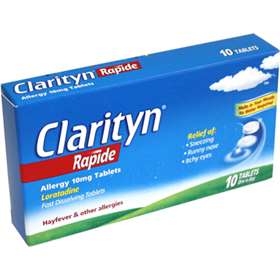 Click on image to enlarge



Price: £4.45 (incl VAT)
Sorry, this item is currently unavailable. Click here to receive notification when this product comes back into stock.
Clarityn Rapide relieves symptoms associated with allergic rhinitis (for example, hayfever) such as sneezing, runny or itchy nose and burning or itchy eyes. Rapide can also help relieve symptoms of urticaria (itching and redness), which is often known as hives or nettle rash.
10 tablets.
Melt in your mouth (no water required).
Relieves the symptoms of sneezing, runny nose and itchy eyes.
Fast dissolving tablets to quickly fight the effects of hayfever and other allergies.
Ingredients:
Loratadine 10mg, Gelatin, Mannitol, Anhydrous Citric Acid, Mint Flavour.

Directions for Use:

Age
How Much
How Often To Take:
Children of 2 to 12 years who weigh more than 30kg (4st 7lb)
1 x tablet
Once Daily
Adults and children over 12 years.
1 x Tablet.
Once daily



If you have severe liver problems your doctor or pharmacist may advise you to take the recommended amount every other day. if this applies to you follow their instruction.


Cautions:
Do not take Clarityn Rapide:
If you are allergic (hypersensitive) to loratadine or any of its other ingredients.
If you are pregnant or breastfeeding.

Take special care with Clarityn Rapide:
If your have liver disease, consult your doctor or pharmacist before taking this medicine.

Taking Clarityn Rapide with food and drink:
Clarityn Rapide can be taken with or without a meal.
This medicine has not been shown to add to the effects of an alcoholic drink.

If you are scheduled to have any skin tests for allergies, you should not take Clarityn Rapide for two days before. At the recommended dose Clarityn Rapide is not expected to cause you to be drowsy or less alert. However, very rarely some people experience drowsiness, which may affect their ability to drive or use machinery. No serious problems are expected with accidental overdose. However, if you take more medicine than recommended, contact your pharmacist or doctor immediately.