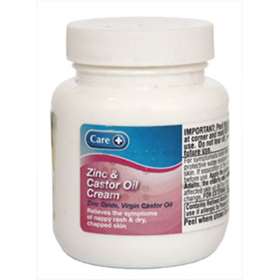 Click on image to enlarge



Price: £1.99 (incl VAT)
Sorry, this item is currently unavailable. Click here to receive notification when this product comes back into stock.
Care Zinc and Castor Oil Cream 100g is used for symptomatic relief of nappy rashes, and is also used as a protective water resistant cream for dry chapped skin.
Contains Zinc Oxide and Virgin Castor Oil.
Relieves the symptoms of nappy rash and dry, chapped skin.
Directions of Use:
Adults, the elderly and children:
Apply to the affected skin up to four times a day or at each nappy change.

Important:
Peel off label at corner and read before use. Do not tear off, re-fix for future use.
Peel where shown for further precautions.

Cautions/Warnings:
For external use only
Contains Refined Arachis Oil (Peanut Oil). Do not use if allergic to Peanut or Soya.
Do not store above 25°C.
Keep out of the sight and reach of children.

Ingredients:
Zinc Oxide 7.5% w/w, Virgin Castor Oil 50.0% w/w, Refined Arachis Oil (Peanut Oil), Cetostearyl Alcohol, White Beeswax (E901).