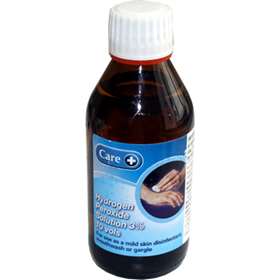 Click on image to enlarge



Price: £1.60 (incl VAT)

Care Hydrogen Peroxide Solution 10 Vols
Mild skin disinfectant.
Do not store above 25°C
200ml Glass bottle.
Can be used as a mouthwash.
10 vol - 3%.
Possible side effects:
Irritating burns on the skin and other soft tissues of the body producing a white patch of dead tissue, the pain from this will disappear after about an hour. Continual use as a mouthwash may cause: Swelling of the tongue.

Cautions:
If you accidentally swallow some see a doctor straight away.
Take the pack with you to show which medicine you have swallowed.
Do not use after expiry date.

Directions of use:
For skin disinfectant:
Dilute a portion of the peroxide with an equal amount of water.
Soak some cotton wool in this solution and use it to dress the wound as required.

For mouthwash:
Dilute a portion of the peroxide to five times the amount of water.
Use this solution to rinse the mouth for 2-3 minutes.
Repeat this up to three times a day.

Pregnant or Breastfeeding:
Ask your doctor or pharmacist before using this medicine if you are pregnant, might be pregnant or are breastfeeding.
Hydrogen Peroxide Solution should not be used in pregnancy or whilst breastfeeding unless the doctor has told you to do so.

Do not use this medicine:
If you or your child have an allergy to any of the ingredients listed on the front.
In closed body cavities or in large, deep cavity wounds.
As an enema.
On normal skin.
This product may bleach fabrics.
To disinfect surgical instruments.

Ingredients:
Phosphoric acid, phenacetin and purifed water.

Active ingredient: Hydrogen peroxide 3%.


| | | | | |
| --- | --- | --- | --- | --- |
| Product code: 1086651 | | Price: £1.60 (incl VAT) | | |