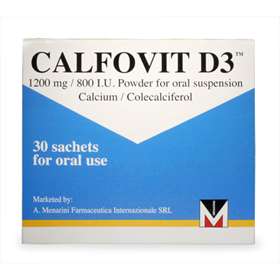 Click on image to enlarge



Price: £6.10 (incl VAT)

Calfovit D3 is a calcium and vitamin D3 supplement for the treatment of certain bone conditions in the elderly.
Both calcium and vitamin D are found in the diet and vitamin D is also produced in the skin following exposure to the sun.
A lack of vitamin D and calcium may lead to reduced bone density and bone fractures. Calfovit D3 may be taken to make up for this deficiency of calcium and vitamin D.

Directions for Use:
Always take Calfovit D3 exactly as your doctor has told you. You should check with your doctor or pharmacist if you are not sure.

Take 1 sachet of Calfovit D3 once a day, preferably during the evening meal.
Pour the contents of the sachet into a glass of non-carbonated water. Stir with a spoon to obtain a pleasant-tasting suspension.
Drink the suspension immediately after mixing.

Read patient information leaflet thoroughly before use.

Ingredients:
The active substances are: calcium and colecalciferol
Each sachet contains Calcium 1200 mg (as Calcium phosphate) and Colecalciferol (Vitamin D3) 20 micrograms (equivalent to 800 I.U).
The other ingredients are: Propylene glycol, Sunset yellow FCF (E110), Lemon flavouring (containing: Natural flavourings, Maltodextrin, Gum arabic), Saccharin sodium, Anhydrous citric acid, Microcrystalline cellulose and Carmellose sodium, Monopalmitate sucrose, Silica colloidal anhydrous, Mannitol, α-tocopherol, Edible fats, Gelatin, Sucrose and Maize starch.




| | | | | |
| --- | --- | --- | --- | --- |
| Product code: 2891984 | | Price: £6.10 (incl VAT) | | |