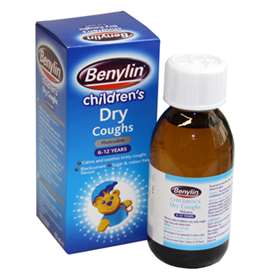 Click on image to enlarge
| | |
| --- | --- |
| Price: £3.29 (incl VAT) | Sorry, this product is no longer available. |
Benylin Children's Dry Coughs - Contains Pholcodine (2mg/5ml).

Benylin Children's Dry Coughs provides effective, symptomatic relief from children's dry, tickly coughs. The active ingredient Pholcodine is an antitussive (cough suppressant) which prevents the urge to cough it works by reducing the nerve signals sent from the brain to the muscles that produce coughing.
125ml.
Calms and soothes tickly coughs.
Blackcurrant flavour.
Sugar and colour free.
Suitable for children aged 6-12 years.
For oral use only.
Each 5ml spoonful of cough syrup contains Pholcodine 2mg and Maltitol syrup (E965).

Directions for Use:
Children 6-12 years: Two to three 5ml spoonfuls, 3 times a day. Do not give to children under 6 years old.

Cautions:
Always read the leaflet or label.
Do not take with any other cough medicines.
For oral use only.
Not suitable for children under 6 years.
Do not use more than 3 doses in 24 hours.
Do not exceed the stated dose.
Do not use for more than 5 days without the advice of a doctor.

Ingredients:
Pholcodine, Maltitol Syrup, Sodium Citrate, Citric Acid Monohydrate, Sodium Benzoate (E211), Flavours (Blackcurrant and Vanilla), Purified Water, Hydroxyethylcellulose, Glycerol And Acesulfame K.