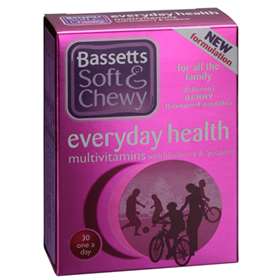 Click on image to enlarge
| | |
| --- | --- |
| Price: £3.49 (incl VAT) | Sorry, this product is no longer available. |
Bassetts Soft & Chewy Everyday Health Multivitamin Pastilles with Blueberry and Lycopene
Formerly known as Bassett's Soft and Chewy Multivitamin - Blackcurrant.

Bassett's Soft and Chewy Multivitamins are a tasty supplement for the whole family.

Vitamins are essential nutrients, required in very small amounts to maintain good health. Most vitamins are not made by the body and so must be obtained through the diet.
Vitamin A, C, D & E help to promote healthy bones, teeth and gums, healthy eyes, muscles and skin. It also keeps the immune system and nervous system healthy.
B vitamins (B2, B5, B6, B12, B9) benefit energy and metabolism and are good for a healthy heart and circulation.
Lycopene is also beneficial for skin health.
a

Blueberry Juice is packed full of anti-oxidants.
No added sugar and contains natural colours and flavours.
For age 6 years+
It can be difficult to always ensure you are eating a well balanced diet, due to hectic life styles and the amount of unhealthy "convenience food" many of us consume. Storing, cooking and freezing fresh fruit and vegetables also results in losing their essential vitamins that we all need. Bassett's Soft & Chewy Multivitamins are delicious berry flavour pastilles, that can help maintain good health if eaten daily.

Dosage:
One pastille per day. For adults and Children over 6 years of age.
Do not exceed dosage.
No other additional vitamin A or D supplements should be taken with this product.

Nutritional Information and Ingredients:
Vitamin A 800µg, Vitamin D 5µg, Vitamin E 10mg, Vitamin C 60mg, Vitamin B2 1.6mg, Vitamin B5 6mg, Vitamin b6 2mg, Vitamin B12 1µg, Folic Acid 200µg, Lycopene, All providing the Recommended Daily Allowance (RDA).

Maltitol syrup, Gelatine, Blueberry juice (6% from concentrate), Vitamin C, Colours (anthocyanins, vegetable carbon), Tomato Lycopene
(contains soya lecithin), Flavouring, Vitamin E acetate, Malic Acid, Provitamin B5, Glazing agent (coconut oil, vegetable fats, carnuba wax), Riboflavin 5'-phosphate sodium, Sunflower oil, Vitamin B6, Sacralose, Vitamin B12 compound (Citric acid, maltodextrin), Vitamin A palmitate, Folic acid, Vitamin D3.
Contains sulphites and naturally occurring sugars.