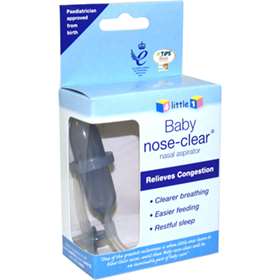 Click on image to enlarge



Price: £6.99 (incl VAT)

The Baby Nose Clear Nasal Aspirator is an award winning device that allows you to safely and naturally clear your baby's nose.
Relieves congestion.
Clearer breathing.
Easier Feeding.
Restful sleep.
Hygienic.
Medicine free and non invasive.
Paediatrician approved from birth.
Nasal congestion often occurs in baby's first couple of weeks or later due to colds or allergies. The Baby Nose Clear Nasal Aspirator relieves congestion to aid clearer breathing, easier feeding and restful sleep. Removing excess mucus also helps prevent further complications such as coughs, ear infections and tummy upsets.

Directions for Use:
Wash before first use. When mucus can be seen at your baby's nose, target it with the end of the bulb nozzle and suck through the mouthpiece. Congestion will collect hygienically in the sealed chamber, protected by a filter. You have complete control by varying the level of continuous suction and by monitoring the process through the transparent plastic. It is not possible to over suck.

Paediatrician advice is to clear the nose before a feed. To clean the Baby Nose Clear Nasal Aspirator, unscrew the nozzle from the main bulb to access the filter. Wash and dry thoroughly after each use.

Cautions:
Never place the nozzle inside the baby's nostril.
Never use on the mouth or ears.
This is not a toy and contains small parts.
For optimum function the Baby Nose Clear Nasal Aspirator should be replaced after 6 months.
If used by more than one child, the device should be sterilised between children, or each child could have their own device.


| | | | | |
| --- | --- | --- | --- | --- |
| Product code: BAB743M | | Price: £6.99 (incl VAT) | | |