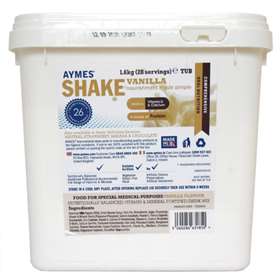 Click on image to enlarge



Price: £18.25 (incl VAT)

A vanilla flavoured shake style nutritional drink formulated to help build you back up.

Each Aymes Shake contains 26 vitamins & minerals including calcium and vitamin D for the maintenance of bones and teeth, and iron to contribute to the formation of red blood cells.

Aymes Shakes are free from:
• Artificial colours • Preservatives • Artificial sweeteners •
They are also suitable for those who follow a vegetarian, halal, gluten and soy free diets.
Vanilla flavour
1.6kg Tub.
High in calcium, protein and vitamin D.
Each 57g provides 388 calories.
Mixing instructions:
Use a shaker
Pour 200ml milk into a shaker, add 2 scoops of Aymes powder. Fasten lid and shake vigorously into a smooth paste, add the rest of the milk and whisk again. Drink immediately or seal and refrigerate for up to 24 hours.
Use a whisk or a fork
Pour 50ml of the milk into a glass or mug. Add 2 level scoops of Aymes shake powder. Mix into a smooth paste. Add the rest of the liquid and whisk again. Drink immediately.


Nutritional Information:
Nutritional Information:
100g of powder
57g of powder + 200ml whole milk
Energy
KJ
1892
1625
Kcal
442
388
Fat
g
14.8
16.4
Of Which Saturates
g
7.1
9.2
Carbohydrate
g
61.7
44.3
Of Which Sugars
g
35.0
29.1
Fibre
g
0.2
0.1
Protein
g
15.5
15.6
Salt
g
0.65
0.60
Vitamins
Vitamin D
µg
9.0
5.1
Vitamin C
mg
59
38
Vitamin K
µg
53
30
Thiamin
mg
1.4
0.86
Riboflavin
mg
1.6
1.4
Vitamin B6
mg
2.0
1.2
Niacin (NE)
mg
13
9.1
Folic Acid
µg
200
130
Vitamin B12
µg
2.0
3.0
Pantothenic Acid
mg
5.5
4.3
Biotin
µg
31
23
Minerals
Sodium
mg
260
240
Chloride
mg
500
470
Potassium
mg
740
740
Calcium
mg
600
580
Phosphorus
mg
470
460
Magnesium
mg
83
70
Iron
mg
6.8
4.0
Zinc
mg
4.9
3.6
Copper
µg
530
300
Iodine
µg
100
120
Selenium
µg
25
16
Manganese
mg
0.61
0.35
Chromium
µg
7
4
Molybdenum
µg
16
9


Ingredients:
Skimmed Milk Powder, Dried Glucose Syrup, Palm Fat, Maltodextrin, Sugar, Flavourings, Vitamin & Mineral Premix (Potassium Phosphate, Sodium Ascorbate, Vitamin E, Ferrous Sulphate, Niacinamide, Zinc Sulphate, Vitamin A, Calcium D-Pantothenate, Vitamin D3, Sodium Molybdate, D-Biotin, Sodium Selenite, Pyridoxine Hydrochloride, Folic Acid, Potassium Iodate, Manganese Sulphate, Thiamin Mononitrate, Copper Sulphate, Vitamin K1, Vitamin B12, Riboflavin, Chromium, Chloride), Magnesium Sulphate, Emulsifier: Soya Lecithin.




| | | | | |
| --- | --- | --- | --- | --- |
| Product code: 4087094 | | Price: £18.25 (incl VAT) | | |