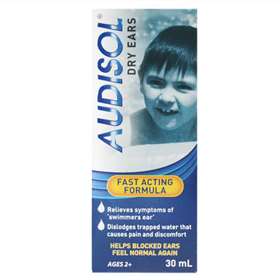 Click on image to enlarge



Price: £4.75 (incl VAT)

Audisol Dry Ears Spray clears the ears of moisture and dislodges trapped water. Trapped water inside the ear canal can cause pain and discomfort. Audisol works quickly to release within moments of spraying it into the ear.
Audisol Dry Ears Spray also helps to prevent and relieve symptoms of Swimmer's Ear. Swimmer's ear is an infection in the outer ear canal and is often caused by wet ears that create a perfect environment for bacteria. Audisol Dry Ears Spray eliminates water and moisture from the ear hindering bacteria growth.
30ml.
Pain relief from trapped water.
Relief from the symptoms of swimmer's ear.
Quickly dry's excess moisture.
Suitable for 2 year olds and older.
Helps blocked ears feel clear again.
Please read enclosed leaflet carefully before use

Directions for Use:
For the best results use Audisol Dry Ears Spray straight after being in the water including baths and showers.
Spray 1-2 times in the ear as needed. Trapped water should be released quickly and run out the ear canal.
If symptoms persist consult a health care professional.

Cautions:
Please ensure you read the enclosed leaflet carefully before using this product.
Keep out of sight and reach of children.
Do not use on children under the age of 2 years old.
Do not use if you are allergic or hypersensitive to any of the ingredients.
Do not use if you have a perforated ear drum, infection, inflammation, recently had a ear surgery, or currently using a grommets.
Do not spray into eyes or mouth, if contact is made wash with running water and consult a medical professional.
Ingredients:
Isopropyl Alcohol 93%, Glycerin 4.995%, Acetic Acid 2%, Rose oil 0.005%.




| | | | | |
| --- | --- | --- | --- | --- |
| Product code: 4066387 | | Price: £4.75 (incl VAT) | | |