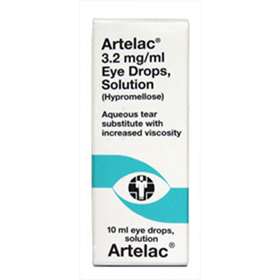 Click on image to enlarge



Price: £6.79 (incl VAT)

Artelac eye drop solution is an aqueous artificial tear product for the treatment of all forms of dry eye.
Can be used by children, adults and the elderly.
Contains Hypromellose.
Has a refreshing and cooling action.
Can be used in pregnancy or if you are breast-feeding.
Directions for use:
Unless otherwise directed instill 1 drop into the corner of the eye nearest the nose 3 to 5 times a day or as often as you think necessary

What you need to know before using Artelac:
Do not use these drops:If you have been told or know that you are allergic to any of the ingredients.

Take special care with these drops:
If you wear soft contact lenses:Take out your lenses before using Artelac and then wait 15 minutes after using these drops before putting your lenses back in.

If your eyes continue to feel dry and sore, stop using the drops and tell your doctor.

Taking other medicines:
Please tell your doctor or pharmacist if you are taking or have recently taken other medicines.

All eye drops can cause short term blurring of vision when first used, so you should wait until your eyes are clear before driving or using machines.

Ingredients:
Hypromellose 3.2mg/ml (0.32% w/v), Cetrimide, Disodium Phosphate, Dodecahydrate, Disodium Edetate, Sodium Dihydrogen, Phosphate Dihydrate, Sorbitol and water for injections.

Caution:
Sterile until opened discard within 28 days of first opening. Avoid contamination during use.

Keep out of the reach and sight of children.

please read enclosed leaflet:




| | | | | |
| --- | --- | --- | --- | --- |
| Product code: 3327327 | | Price: £6.79 (incl VAT) | | |