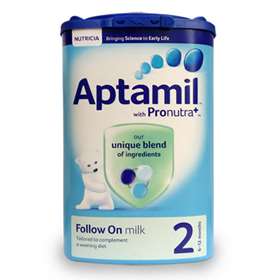 Click on image to enlarge



Price: £12.60 (incl VAT)

Aptamil With Pronutra Plus Follow On Milk 2 900g tailored to complement a weaning diet for 6 - 12 months nutritionally complete and your baby will need about 1 pint (500-600ml) per day.

Aptamil With Pronutra Plus Follow On Milk 2 At 6 months, your baby's natural iron stores start to deplete. Iron plays a role in your baby's normal cognitive development. Combining Iron with foods high in vitamin C helps the body absorb iron more efficiently. Vitamin D also helps to support normal growth and development of bone and DHA, an omega-3 long chain polyunsaturated fatty acid, supports normal visual development during period of change.
900g.
Contains Omega 3 LCPs (DHA)
Enriched with iron, plus vitamins A, C and D
Contains a unique blend GOS/FOS (9:1) which is important for normal visual development.
Halal approved.
Nutritionally tailored.
Extensively hydrolysed for special milk allergies.
Aptamil Follow On Milk: Is only for babies over 6 months as part of a mixed diet. It should not be used as a breast milk substitute before 6 months so if you wish to use this product before 6 months we advise that you consult your healthcare professional. Aptamil follow on milk should be used on the advice of a Doctor midwife, health visitor, public health nurse, dietician, pharmacist, or other professional responsible for maternal and child care based on the baby's individual needs.

Ingredients:
Lactose (From Milk) Vegetable Oils (Palm Oil, Rapeseed Oil, Coconut Oil, Sunflower Oil, Single Cell Oil), Maltdextrin, Skimmed Milk, Whey Protein Concentrate (From Milk) Glacto-oligosaccharides* (GOS), (From Milk), Fructo-oligosaccharides (FOS), Calcium Carbonate, Potassium Citrate, Vitamin C, Calcium Chloride, Choline Chloride, Taurine, , Emulsifier (Soya Lecithin), Ferrous Sulphate, Calcium Phosphate, Magnesium Chloride, Inositol, Vitamin E, Zinc Sulphate, L-Tryptophan, Uridine, 5-Monophosphate Sodium Salt, Cytidine-5-Monophosphate, Adenosine-5-Monophosphate, L-Carnitine, Pantothenic Acid, Folic Acid, Copper Sulphate, Vitamin A, Biotin, Thiamin, Vitamin D3, Vitamin B12, Riboflavin, Manganese Sulphate, Potassium Iodide, Vitamin K1, , Soldium Selenite.

Directions for Use:
Wash hands and sterilise all utensils according to the manufacturers instructions.
Boil 1 litre of freshly run water. Leave kettle to cool for 30 minutes.
Do not use artificially softened or repeatedly boiled water.
Measure the required amount of water (refer to the feeding guide) into a sterilised beaker.
Do not add powder to boiling water due to risk of scalding.
Using the scoop provided, level off the powder with the built in leveller.

Do not press/heap the powder.
Add one scoop to every 30ml (1 fl oz) of boiled cooled water. Add the correct number of scoops to the water. Adding too many or too few scoops can be harmful.
Approx: 1 beaker equals 7 scoops (1 scoop = 4.9g) to quantity of water per feed 210 ml (7 fl oz)
Mix well (for 10 seconds) to dissolve powder. Replace lid on beaker.
Cool under running tap. Check temperature of feed. Feed immediately.

Make up each feed as required. For hygiene reasons, do not store made up feeds, discard unfinished feeds as soon as possible, and always within two hours.

Cautions:

Do not heat feeds in a microwave, hot spots may occur and cause scalding. Do not allow prolonged or frequent contact of milk feeds with your baby's teeth as this increases the risk of tooth decay. Ask your health professional or Dentist for advice. Make sure your baby's teeth are cleaned after the last feed at night.


| | |
| --- | --- |
| Major Nutrients | |
| Energy | 285kJ |
| | 68kcal |
| Protein | 1.4g |
| Carbohydrate | 8.6g |
| of which sugars | 6.5g |
| of which lactose | 6.1g |
| Fat | 3.g |
| of which saturates | 1.2g |
| of which unsaturates | 1.8g |
| of which LCPs | 0.02g |
| of which Docosahexenoic acid | 0.009g |
| of which Arachidonic acid | 0.009g |
| Fibre | 0.6g |
| Sodium | 23mg |
| Vitamins | |
| Vitamin A | 66µg-RE |
| Vitamin D3 | 1.4µg |
| Vitamin E | 1.2mg α-TE |
| Vitamin K1 | 5µg |
| Vitamin C | 9.9mg |
| Thiamin (B1) | 0.05mg |
| Riboflavin (B2) | 0.12mg |
| Niacin (B3) | 0.43mg |
| Vitamin B6 | 0.04mg |
| Folic Acid | 16µg |
| Vitamin B12 | 0.18µg |
| Biotin | 1.5µg |
| Pantothenic Acid | 34mg |
| Minerals | |
| Potassium | 74mg |
| Chloride | 47mg |
| Calcium | 65mg |
| Phosphorus | 36mg |
| Magnesium | 4.6mg |
| Iron | 1mg |
| Zinc | 0.51mg |
| Copper | 0.043mg |
| Manganese | 0.0007mg |
| Fluoride | <0.003mg |
| Selenium | 1.7µg |
| Iodine | 13µg |
| Others | |
| L-carnitine | 0.95mg |
| Choline | 10mg |
| Taurine | 5.2mg |
| Inositol | 3.6mg |
| Nucleotides | 3.2mg |
| | | | | |
| --- | --- | --- | --- | --- |
| Product code: MIL509W | | Price: £12.60 (incl VAT) | | |