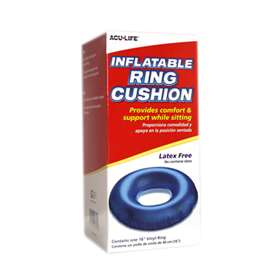 Click on image to enlarge



Price: £11.99 (incl VAT)
Sorry, this item is currently unavailable. Click here to receive notification when this product comes back into stock.
Acu-Life Inflatable Ring Cushion provides support and comfort while sitting.
Contains one 16" vinyl ring.
Latex free.
Provides comfort and support.
Can also be used to support and elevate other parts of the body.
has been designed to alleviate the pressure caused by sitting down. You may wish to do this if you have piles, recently given birth or have had proctologic surgery. The cushion can also be used to support or elevate other parts of the body. The cushion can be deflated and inflated as many times as you wish making it small and compact, perfect for use when travelling.

Directions for Use:
Pull tab to open valve.
Inflate to desired height.
Push valve into seal.
Cover with cloth to prevent direct contact with the skin, if desired.

For storage:
Wipe surfaces clean with soft cloth and warm water.
Let out all the air and refold and return cushion to original carton.
Store in a cool, dry place, away from hot surfaces and sharp instruments.