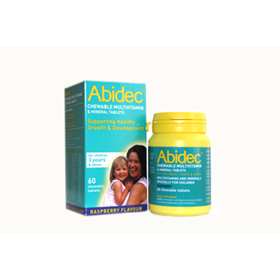 Click on image to enlarge
| | |
| --- | --- |
| Price: £4.05 (incl VAT) | Sorry, this product is no longer available. |
Abidec Chewable Multivitamin and Mineral Tablets help promote a healthy immune system and strong bones and teeth, whilst supporting overall growth and development. Each raspberry flavoured tablets contains a combination of essential vitamins and minerals that are particularly beneficial to young growing children.
60 chewable tablets.
Multivitamins with essential minerals.
Novel pink, smiley faced, flower shaped tablets.
Vitamins A, B Complex, C, D, E and K.
Supports healthy growth and development.
Raspberry flavoured.
No sugars, lactose, yeast or preservatives.
Suitable for children aged 3 years and above.
Abidec chewable multivitamin and mineral tablets can help assist with healthy growth and development in children by providing sufficient vitamins and minerals. The special formula is designed for children aged from 3 years and above and can help ensure your child gets what he or she needs during this important developing and growing stage of their life.

Directions for use:
Children 3 years and over are to take 1-2 tablets a day. Preferably not to be taken on an empty stomach. Excessive consumption may produce laxative effect.

Cautions and warnings:
Always read the label/leaflet.
Do exceed recommended dose.
Keep out of children's reach.
Food supplements should not be used as a substitute for a varied diet and healthy lifestyle.
Keep dry.

Ingredients:
Sweetners, Sorbitol (Wheat), Sucralose, Minerals: Calcium Phosphate, Magnesium Oxide, Ferrous diphosphate, Zinc Citrate, Manganese Sulphate, Cupric Carbonate, Chromium(lll)chloride, Potassium Iodide, Sodium Molybdate, Sodium Selenate. Vitamins (Soya): (C, E, Niacin, A, Pantothenic Acid, D, B1, B12, B6, B2, K, Folic Acid, Biotin) Anti-caking agent: mono and diglycerides of fatty acids, magnesium stearate, citric acid, corn starch, firming agent: povidon, colour: carmine.

Nutritional Information:

| Nutrient: | Qty 1-2 tablets | RDA* 1-2 Tablets |
| --- | --- | --- |
| Vitamin A | 250µg-RE - 500µg-RE | 31 - 63% |
| Vitamin B1 | 0.25mg - 0.5mg | 23 - 45% |
| Vitamin B2 | 0.35mg - 0.7mg | 25 - 50% |
| Niacin | 3.5mg-NE - 7mg-NE | 22 - 44% |
| Pantothenic Acid | 1.5mg - 3mg | 25 - 50% |
| Vitamin B6 | 0.35mg - 0.7mg | 25 - 50% |
| Biotin | 6µg - 12µg | 12 - 24% |
| Folic Acid | 75µg - 150µg | 38 - 75% |
| Vitamin B12 | 0.65µg - 1.3µg | 26 - 53% |
| Vitamin C | 22.5mg - 45mg | 28 - 56% |
| Vitamin D | 2.5µg - 5µg | 50 - 100% |
| Vitamin E | 3.6mg a-TE - 7.2mg a-TE | 30 - 60% |
| Vitamin K | 10µg - 20µg | 13 - 27% |
| Calcium | 30mg - 60mg | 4 - 8% |
| Chromium | 6µg - 12µg | 15 - 30% |
| Iodine | 22.5µg - 45µg | 15 - 30% |
| Copper | 150µg - 300µg | 15 - 30% |
| Magnesium | 29mg - 58mg | 8 - 15% |
| Manganese | 0.3mg - 0.6mg | 15 - 30% |
| Molybdenum | 7.5µg - 15µg | 15 - 30% |
| Selenium | 8.25µg - 16.5µg | 15 - 30% |
| Iron | 2.1mg - 4.2mg | 15 - 30% |
| Zinc | 1.5mg - 3mg | 15 - 30% |