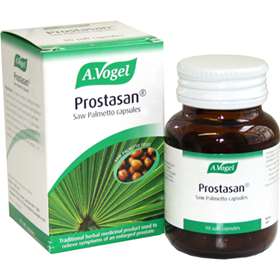 Click on image to enlarge



Price: £40.99 (incl VAT)

A. Vogel Prostasan Saw Palmetto Capsules 90 is a traditional herbal medicinal product used to relieve symptoms of an enlarged prostate.
90 dark brown, soft capsules.
Each capsule contains 320mg saw palmetto.
Prostasan helps to relieve the symptoms of an enlarged prostate (BPH).
Alternative to conventional medication.
A licensed, clinically proven herbal medicine.
Contains alcohol.
A. Vogel Prostasan Saw Palmetto Capsules have been approved by the UK Department of Health; they were one of the first registered herbal medicines in the UK that supports prostate health. A. Vogel Prostasan Saw Palmetto Capsules are made from the fresh oil of saw palmetto berries, rich in active constituents that can be used in the acute stages of benign prostatic hypertrophy (BPH) and prostate disorders.


Directions for use:
Adults to take one capsule daily with food.

Precautions:
Prostasan should only be taken if you have already been diagnosed with an enlarged prostate.
If you are already taking medicines for an enlarged prostate, talk to your doctor before considering Prostasan.
Prostasan will not interfere with other, non-prostate related medicines.
Minor, occasional side effects of belching and stomach discomfort may occur.
Discontinue use if you develop an allergic rash.
Visit your GP if urinary discomfort worsens or you develop a fever.

Please note:
Men must have a diagnosis of BPH before taking Saw Palmetto to rule out other conditions. Saw Palmetto products should not be used alongside prescribed medicines for BPH or other hormonal imbalances without consulting a doctor. Men who experience pain on passing urine or have blood in their urine MUST consult their doctor.

Ingredients:
Serenoa Repens (Saw Palmetto), Sabal Serrulata (Small Fructus), Ethanol, Gelatin, Glycerol, Sorbitol, Iron Oxide (Red, Black and Yellow), Purified Water.


| | | | | |
| --- | --- | --- | --- | --- |
| Product code: 40540 | | Price: £40.99 (incl VAT) | | |