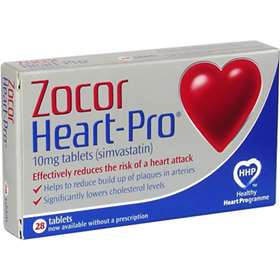 Click on image to enlarge
| | |
| --- | --- |
| Price: £8.15 (incl VAT) | Sorry, this product is no longer available. |
Please Note: This product has been discontinued by the manufacturer.

Zocor Heart-Pro effectively reduces the risk of a heart attack. It helps to reduce build up of plaques in arteries, and significantly lowers cholesterol levels.

What is Zocor Heart Pro for?
Zocor Heart-Pro tablets can reduce the risk of a first heart attack in people who have a moderate risk of coronary heart disease (heart disease because of build up of plaques in the coronary arteries). Moderate risk means your chances of having a heart attack in the next 10 years are at least 1 in 10.

The active ingredient in Zocor Heart-Pro, simvastatin, belongs to a-group of medicines known as statins. These significantly reduce the amount of cholesterol in your blood. Zocor Heart-Pro reduces the level of LDL (bad) cholesterol and fatty substances called triglycerides in your blood and raises HDL (good) cholesterol. LDL cholesterol is called "bad" cholesterol because it is the cholesterol that clogs your coronary arteries. HDL is called "good" cholesterol because it helps to protect against heart disease. Too much cholesterol in your blood builds up in the walls of the coronary arteries causing plaques to form. This leads to a narrowing of the coronary arteries, just like hard water furs up a water pipe. Heart attacks can then happen when a blood clot forms in a narrowed coronary artery.

Taking Zocor tablets can significantly reduce cholesterol levels and help to reduce build-up of artery-narrowing plaques. In order to benefit from treatment, these tablets should be taken regularly on a long-term basis. The risk of heart attacks increases as you age because of the build up of plaques. Reducing this risk with these tablets and changes to your lifestyle needs to be a lifelong effort.

Zocor Heart-Pro reduces the levels of bad cholesterol in the blood by around 27%. Studies show that reducing cholesterol by this much can reduce the risk of a first heart attack by about one third after 3 years of treatment.

You are likely to be at moderate risk if you are a man aged 55 or over.

You are also likely to be at moderate risk if you are a man aged between 45 and 54 or a woman aged 55 or over and you answer yes to one or more of the questions below:
Do you have a parent, brother or sister who suffered a heart attack younger than 55 for men or 65 for women?
Do you smoke or have you smoked within the past 5 years?
Are you overweight? This means you have a body mass index over 25 kg/m2 (your weight in kilos divided by your height in metres squared), or your waist is greater than 40 inches or 102 cm (for men), or 35 inches or 88 cm (for women). Your pharmacist can help you answer this question.
Are you of South Asian origin i.e. from the Indian subcontinent that includes Bangladesh, India, Pakistan or Sri Lanka?
If, in addition, you take no physical exercise other than normal daily activities, your risk of a heart attack is further increased.

Is Zocor Pro right for me?
Do not take these tablets if you:
know you have liver disease or you have been told you have abnormal liver function blood tests.
have had an allergic reaction to this or similar medicines or to any of the ingredients in the past
are already taking prescription drugs to lower your cholesterol
could become pregnant, are pregnant, are planning to become pregnant, or are breast feeding

discover you are pregnant whilst taking Zocor Heart-Pro. In this case you should stop taking these tablets immediately and contact your doctor
have had muscle problems in the past after taking a cholesterol lowering medicine
are taking one of the following medicines:
-oral antifungal medicines called itraconazole or ketoconazole.
-antibiotics called erythromycin, telithromycin or clarithromycin.
-medicines for HIV infections called protease inhibitors
(such as indinavir, nelfinavir, ritonavir or saquinavir)
-the antidepressant nefazodone.

If you have an under active thyroid gland (hypothyroidsim), kidney problems, a family history of muscle disorders or are aged over 70, you should check with your doctor before taking this product.

If you drink more than 4 units of alcohol a day for men and 3 units of alcohol a day for women, check with your doctor before taking this product.
This product contains lactose. If you have been told by your doctor that you have an intolerance to some sugars, contact your doctor before taking this medicinal product.

Zocor Heart-Pro should not be used by children.

Before you take Zocor Heart Pro
If you are taking any other medicines, speak to your pharmacist before taking Zocor Heart-Pro.

Checking your Cholesterol
If you have a moderate risk of heart disease, reducing the level of cholesterol in your blood will reduce your risk. Your pharmacist can arrange to check your cholesterol level, but it is not necessary to know this before you start Zocor Heart-Pro. Checking your cholesterol can provide additional information and can be helpful to show your progress while taking Zocor Heart-Pro. If your fasting LDL-cholesterol measurement is ' above 5.5 mmol/l, speak to your doctor.

Each film-coated Zocor Heart Pro tablet contains 10mg simvastatin as the active ingredient.

The tablets also contain ascorbic acid (E300), butylated hydroxyanisole (E320), citric acid monohydrate (E330), lactose, magnesium stearate (E572), microcrystalline cellulose (E460), pregelatinised maize starch, hydroxypropylcellulose (E463), methylhydroxypropylcellulose (E464), talc (E533b), titanium dioxide (E171), red iron oxide (E172) and yellow iron oxide (E172).

Zocor Heart-Pro tablets come in calendar packs containing 28 film-coated tablets.