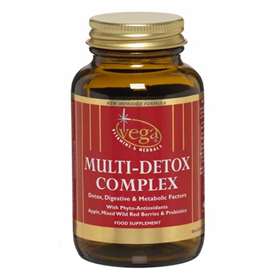 Click on image to enlarge
| | |
| --- | --- |
| Price: £7.49 (incl VAT) | Sorry, this product is no longer available. |
Vega Multi Detox Formula combines a range of nutritional factors in order to provide a gentle, effective and complete body cleanse.

We live in an increasingly toxic environment with more and more health conditions being linked to toxic exposure to pollution. For this reason many people feel the need to embark on a regular detoxification programme, either as part of an illness treatment plan or to promote optimal health.

Multi Detox is designed to protect and support liver and kidney function and includes a combination of important digestive enzymes to ensure that food is broken down effectively.

Recommended for:
Those who wish to cleanse the body in order to promote optimal health.
People suffering from degenerative health conditions.
Warning:
Herbs should be used with caution during pregnancy.

Each bottle contains 30 V-Caps™ (green, two-piece vegetable cellulose capsule).

Recommended Dosage:
Adults – One capsule each day with food or as directed by a healthcare professional.

Free from artificial additives, colours, flavours and preservatives, lactose, salt, sugar, corn, gluten, wheat, yeast, dairy, gelatin, genetically modified ingredients, hydrogenated fats, nut and peanut derivatives. They are suitable for Kosher, vegan and vegetarian diets.

Ingredients per V-Cap™ :
Psyllium (Plantago Ovata) Husk Fibre 100mg, Beet Juice (Beta Vulgaris) Root Extract 10:1, Equiv. to Herb 60mg, Bilberry (Vaccinium Myrtillus) Fruit Extract 4:1, Equiv. to Herb (Standardised Extract, Min. 20% Anthocyanadins) 60mg, Choline Bitartrate 50mg, Inositol 50mg, Black Radish (Raphanus Sativus Var. Niger) Plant Powder 30mg, Vitamin C (as Calcium Ascorbate) 30mg, Cruciferous Vegetable (Cabbage, Broccoli, Sprouts) Concentrate 20mg, Green Tea (Camellia Sinensis) Leaf Extract (Standardised Extract, Min. 40% Polyphenols) 20mg, L-Methionine (Free Form) 20mg, Amylase (316,000 USP units/g) 10mg, Blue Green (Aphanizomenon Flos Aquae) Algae 10mg, Chlorella (Chlorella Vulgaris) Broken Cell Algae 10mg, Glucaric Acid (as Calcium-D-Glucarate) 10mg, Lipase (11,000 USP units/g) 10mg, Protease (65,000 USP units/g) 10mg, Spirulina (Spirulina Platensis) Algae 10mg, Zinc (Citrate) 7.5mg, Pine (Pinus Spp.) Bark Extract (Standardised Extract, Min. 70% Proanthocyanadins) 2mg, Manganese (Citrate) 0.5mg, Selenium (as Sodium Selenite) 200µg, Copper (Citrate) 100µg, Molybdenum (as Ammonium Molybdate) 10µg, Encapsulated in a vegetable cellulose capsule with vegetable magnesium stearate (lubricant).