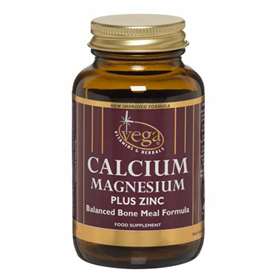 Click on image to enlarge



Price: £4.55 (incl VAT)
Sorry, this item is currently unavailable. Click here to receive notification when this product comes back into stock.
Vega Calcium, Magnesium and Zinc is a high potency bone specific formula designed specially with three minerals that work together to promote the healthy growth of bone tissue.

Although the main mineral found in bone matter is Calcium, bone tissue cannot be formed effectively without the involvement of Magnesium and Zinc. Mineral supplementation is essential as many of these nutrients are a casualty of modern farming techniques and highly refined diets.

Recommended for:
Vegetarians and vegans.
The elderly.
Growing children and those avoiding dairy products.
Post-menopausal women.
People concerned about osteoporosis.
Warning:
People with hyper-parathyroidism, chronic kidney disease or kidney stones should only supplement Calcium under the supervision of a medical practitioner.

Each bottle contains 30 V-Caps™ (green, two-piece vegetable cellulose capsule).

Recommended Dosage:
Adults – One to two capsules each day with food or as directed by a healthcare professional.

Free from artificial additives, colours, flavours and preservatives, lactose, salt, sugar, corn, gluten, wheat, yeast, dairy, gelatin, genetically modified ingredients, hydrogenated fats, nut and peanut derivatives.

They are suitable for Kosher, vegan and vegetarian diets.

Ingredients per V-Cap™ :
Calcium (Carbonate, Citrate) 150mg, Magnesium (Oxide, Citrate) 75mg, Zinc (Citrate) 10mg, Encapsulated in a vegetable cellulose capsule with vegetable magnesium stearate (lubricant).