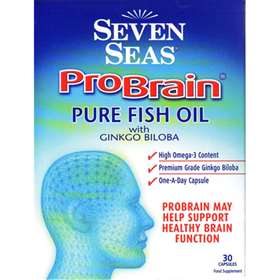 Click on image to enlarge



Price: £10.49 (incl VAT)
Sorry, this item is currently unavailable. Click here to receive notification when this product comes back into stock.
Pure fish oil with ginkgo biloba. Seven Seas ProBrain may help support healthy brain function.

The Brain
The brain is made up of billions of nerve cells which control specific body functions such as mental performance, coordination, balance and hand-eye coordination. Diet and lifestyle can play a key role in the health of the brain.

However, with today's hectic lifestyle our daily diet may not always contain all of the nutrients that are required to help maintain our health and well being, and sometimes we may need to take a supplement.

Seven Seas ProBrain
Seven Seas ProBrain is a rich source of concentrated pure fish oils combined with Ginkgo biloba in a convenient one-a-day capsule.

Pure Concentrated Fish Oil
The Omega-3 nutrient DHA is a structural part of the brain and may play a part in maintaining a healthy brain function.

Ginkgo Biloba
Ginkgo biloba has been used in Chinese medicine for over 5000 years and may help to maintain peripheral blood circulation.
High Omega-3 content
Premium grade ginkgo biloba
one-a-day capsule


Ingredients:Fish Oil Concentrate (TriomegaŽ) Capsule Shell (Modified Maize Starch, Glycerol, Gelling Agent: Carrageenan; Sorbitol Syrup, Disodium Phosphate, Colours: Titanium Dioxide, Chlorophyll Prep. (Copper Chlorophyll, Lactose1); Fish Oil, Silicon Dioxide, Vitamin E, Ginkgo Biloba Prep. (Ginkgo Biloba Extract, Glucose Syrup). 1- From Milk.