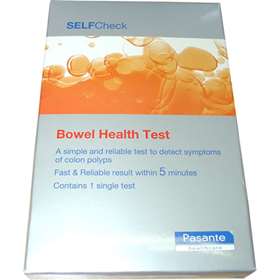 Click on image to enlarge



Price: £9.99 (incl VAT)
Sorry, this item is currently unavailable. Click here to receive notification when this product comes back into stock.
Self Check Bowel Health Test.

A simple and reliable test to detect symptoms of colon polyps.

Cancer of the bowel is the third most common cancer in the UK. Everyone above the age of 40 should have an annual fecal blood test.

Fast and Reliable result within 5 minutes.

Contains 1 single test.

Self Check Bowel Health Test - In-vitro-diagnostic test kit for self testing.

Test contains: Sample container with buffer and collection stick. Sealed foil pouch with test cassette and dessicant and instructions for use.

95% of all cases of colon (bowel) cancer result from benign tumors called polyps that grow inside the colon. This means that this type of cancer is one of the few where the development of tumours can be prevented by early intervention. Polyps in the colon often remain undetected for many years until they develop into a cancerous form. If a polyp is found in time and removed, it can halt the development of colon cancer. Early detection of colon cancer is very important and everyone over the age of 40 should perform a yearly fecal occult blood test in order to minimise risk.