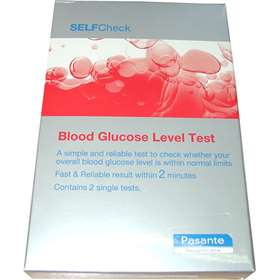 Click on image to enlarge



Price: £10.20 (incl VAT)
Sorry, this item is currently unavailable. Click here to receive notification when this product comes back into stock.
Self Check Blood Glucose Level Test.

A simple and reliable test to check whether your overall blood glucose level is within normal limits.

Diabetes effects 2 million people in the uk and tends to effect adults over 40 and overweight people.

Fast and Reliable result within 2 minutes.

Contains 2 single tests.

In-vitro-diagnostic test kit for self testing.

Test contains: 2 foil packs each with test strip and dessicant, 2 colour charts, 2 lancets, 2 plasters and instructions for use.

Diabetes is one of the worlds most prevalent illnesses. It is estimated that by the year 2010 there will be 240 million diabetics worldwide (World Health Organisation statistics). Long term and untreated high levels of glucose in the blood can damage all the blood vessels in the human body. It can lead to impaired eyesight, kidney failure, nerve damage, erectile dysfunction and poor wound healing capacity. There is also a significantly higher risk of cardiac arrest and strokes. This test gives you a reliable estimate and an early indication of whether your blood glucose level is within normal limits and whether or not you are at risk for diseases such as diabetes.