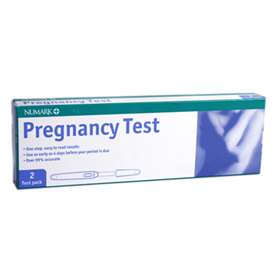 Click on image to enlarge



Price: £2.50 (incl VAT)

Numark Pregnancy Test ( 2 Test Pack ).

Numark pregnancy tests can be used as early as 4 days before your period is due. The kit contains everything you need for an accurate and rapid result.
One step, easy to read results.
Can be used as early as 4 days before your period is due.
Over 99% accurate.
2 tests
Full instruction leaflet.
Directions for use:
Allow the midstream pregnancy test to reach room temperature (15-30oc) before removing from the foil pouch.
Remove the cap to expose the absorbent tip.
Hold the test by the thumb grip with the exposed absorbent tip pointing downwards.
Urinate on the absorbent tip until it is thoroughly saturated (approximately 2-3 seconds).
Do notallow urine to come into contact the with the result window.
Lay the test down on a flat surface with the window on top and wait for the red-purple line(s) to appear.
Read the result after 1-3 minutes.
Do not read the result after 15 minutes as it will be inaccurate.

Reading the result:
POSITIVE RESULT; Two red-purple lines appear in the results window. This means you are pregnant.

NEGATIVE RESULT; One red-purple coloured line. This means you are probably not pregnant.




| | | | | |
| --- | --- | --- | --- | --- |
| Product code: 3176492 | | Price: £2.50 (incl VAT) | | |