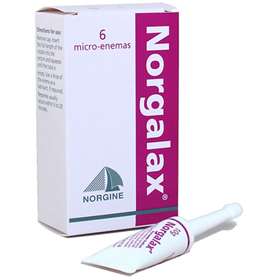 Click on image to enlarge



Price: £38.20 (incl VAT)

Norgalax is a micro-enema to provide relief from constipation and clear the bowel before some examinations.

Each 10g Norgalax micro-enema contains 0.12g Docusate Sodium BP. They also contain sodium carboxymethylcellulose and water.

Do not use Norgalax if:

you have haemorrhoids (piles) or bleeding from your rectum
you have a pain in your abdomen
you feel sick or are being sick
your doctor has told you that you have a blockage in your intestine, sores around your anus (anal fissure), inflammatory bowel disease or rectocolitis
The usual dose of Norgalax is one tube. You can use a second tube later in the day, or on the next day if you need. Do not use Norgalax for more than a few days at a time.

Directions:
Pull the cap off the neck of the tube. Gently squeeze the tube and smear a drop around the neck of the tube to help it slide in. Push the neck of the tube all the way into your rectum. Squeeze the tube gently until it is empty. Stay near a toilet because you should need to use it in about 5 to 20 minutes after using Norgalax.

Norgalax is not for children under 12 years old.

Note: We are only able to ship one box at a time of this product. Multiple orders will not be accepted.




| | | | | |
| --- | --- | --- | --- | --- |
| Product code: 0027003 | | Price: £38.20 (incl VAT) | | |