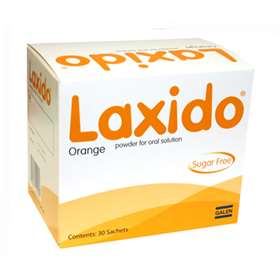 Click on image to enlarge
Laxido Orange- Start a Movement!

Laxido is used to treat chronic long-term constipation and can also be used to treat a build up in the bowel. The active ingredient, Macrogol 3350, is a laxative that makes stools softer and easier to pass. Electrolytes help to maintain the body's normal levels of sodium, potassium and water whilst giving relief from constipation.
Single dose sachets are dissolved in water to create an orange flavoured drink.
Suitable for children over 12 years, adults and the elderly.
Available in boxes of 20 or 30 sachets.
Laxido is now Sugar Free
Product code: 3564408

Price: £6.55 (incl VAT)