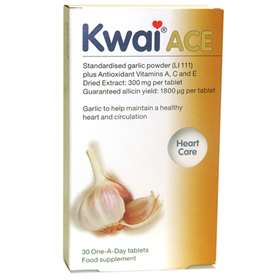 Click on image to enlarge



Price: £6.09 (incl VAT)
Sorry, this item is currently unavailable. Click here to receive notification when this product comes back into stock.
Kwai Ace are a one a day garlic tablet to help maintain a healthy heart and circulation.
300mg concentrated, odour free garlic.
Complete with the antioxidants vitamin A, C, and E.
Helps to keep cholesterol levels under control.
Suitable for diabetics.
Free from lactose, salt, yeast and gluten.
Kwai ACE combines garlic and and an effective antioxidant containing vitamin A,C,E, to create an advanced heart care supplement. Only Kwai garlic is backed by millions of pounds of garlic and heart care research that indicates that Kwai garlic could help to keep cholesterol levels normal. Taking Kwai and enjoying a healthy diet and lifestyle, will ensure a satisfactory daily intake of these antioxidants which "mop up" free radical by-products of the body's metabolism.

Suggested Intake:Take one tablet daily with cold liquid at lunch or dinner time. Try to swallow, not chew, to ensure the whole efficiency and breath freshness.

Please note:

Not suitable for pregnant women.
Do not exceed the stated daily dose.
Do not take if you are already taking cod liver oil or other vitamins containing vitamin A.

Contains 30 tablets.