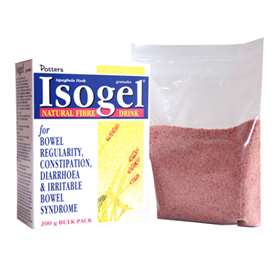 Click on image to enlarge
| | |
| --- | --- |
| Price: £4.49 (incl VAT) | Sorry, this product is no longer available. |
Please note that this product has been discontinued by the manufacturer.

A natural fibre drink for bowel regularity, constipation, diarrhoea and irritable bowel syndrome (IBS).

Isogel is an ideal product for encouraging natural bowel regularity. It is both effective as a laxative and helpful in the control of diarrhoea and constipation associated with disorders such irritable bowel syndrome (IBS).


Aids bowel regularity, constipation, diarrhoea and IBS.

Natural active ingredient.

Non-starch carbohydrate fibre with no calorific value.

Easily digested in fluid form.

Gluten Free.

Suitable for adults and children.

The active ingredient Ispaghula is obtained from Plantago ovata, a plant grown mainly in southern Hemisphere. It is the outer layers of the dried ripe seeds that are milled and made into the granules. Isogel contains 90% w/w dried Ispaghula Husk. It is a natural source of non-starch carbohydrate fibre, the fibre type considered to be the most suitable for increasing faecal bulk. It holds water in order to do so, which then encourages natural bowel movement without any other stimulant. For this reason Isogel is not only an effective remedy for occasional constipation but habitual too. The granules can also be used it the treatment of diarrhoea and is recommended for sufferers of irritable bowel syndrome, ulcerative colitis and the management of colostomies.

Please note, because Isogel is made from natural vegetable material, it is subject to a slight variation in appearance and odour.

Directions for use:
The required amount should be stirred into half a glass of water and swallowed AT ONCE. Do not leave it to stand before drinking. The use of carbonated water makes Isogel easier to swallow. Fluid intake should also be increased after taking Isogel.

Dosage:
ADULT: Two 5ml teaspoons, once or twice daily, depending on severity, preferably at meal times.
CHILD: One 5ml teaspoon, once or twice daily, depending on severity, preferably at meal times.
ELDERLY/DEBILITATED: Insure patients are supervised whilst taking Isogel.

Please consult your doctor before taking this product if you are pregnant.

Ingredients: Sodium Metabisulphite E223, Colour E127, Phosphoric Acid, Gum Mucilage (Acacia Tears, Methyl Hydroxybenzoate E218, Propyl Hydroxybenzoate E216).

This product contains the preservatives Methyl Hydroxybenzoate and Propyl Hydroxybenzoate. This may cause allergic reactions (possibly delayed). In the event of a reaction, stop using immediately and seek medical advice. Isogel also contains Sodium Metabisulphite, this may rarely cause hypersensitivity reactions and bronchospasm.