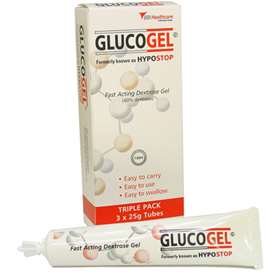 Click on image to enlarge



Price: £8.15 (incl VAT)

GlucoGel© - Formerly Known as HypoStop - Fast acting Dextrose Gel (40%).
Easy to swallow.
Gets to work immediately.
Handy to have whilst away from home.
For oral use only.
Contains no artificial colours.
When blood sugar levels become low, the insulin in the body cannot deliver sugar to the body's cells and often results in what is known as hypoglycaemia or a "hypo". The cause of this maybe from the lack of food, excess exercise/perspiration, stress or too much insulin.

If you are feeling tired and faint, GlucoGel© is an instant way to get an sugar boost when it is most needed. The single use, triple pack tubes are useful to carry when out and about, eg. in a bag or the glove compartment.

Directions:
Twist off the cap and squeeze a required amount in to the mouth and on to the inside cheek. Then gently rub the outside of cheek to quicken absorption process. Alternatively, squeeze content (optional amount) into mouth and swallow. Repeat if necessary.

Important! Speak to your doctor or health care advisor regarding your carbohydrate requirements.

Ingredients:
Water • Glucose Monohydrate • Citric Acid • Gelling Agent (sodium carboxy methyl cellulose) • Preservatives E215 E217 E219.

Nutritional Information per 100g:
Energy 150Kcalories • Carbohydrates 37.5g • Sugars 36.3g • Sodium 0.1g.





| | | | | |
| --- | --- | --- | --- | --- |
| Product code: 2429793 | | Price: £8.15 (incl VAT) | | |