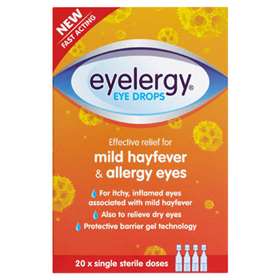 Click on image to enlarge



Price: £8.30 (incl VAT)
Sorry, this item is currently unavailable. Click here to receive notification when this product comes back into stock.
Eyelergy eye drops are sterile, preservative-free drops designed to work fast, for effective relief of itchy, inflamed and irritated eyes caused by dust or pollen.

Eyelergy eye drops help dilute and rinse dust and allergens from the eye and form a physical barrier on the surface of the eye to relieve and protect against irritation. The drops also relieve dry eyes caused by wearing contact lenses.
Itchy, Inflamed Hayfever Eyes.
Suitable for Contact Lens Wearers.
Adults, elderly and children from 6 years of age.
Fast Acting.
Preservative Free.
Directions for Use:
Wash hands before use.
Detach one plastic dropper and twist the top flat piece with a ball tip to open. Do not allow the open tip to touch any surfaces and use straight away.
Tip your head back and hold the tip of the dropper above the eye. Squeeze 1-2 drops in each eye.
Each dropper is for single use only. Discard after use.

Please read the enclosed information leaflet before use.

Cautions:
Do not use if you are sensitive to any of the ingredients.
Do not use if pre-filled single use plastic dropper is already opened or damaged, or after the expiry date.
Although Eyelergy eye drops are not known to affect or be affected by other products used in the eyes, it is best to avoid using them at the same time as medicines in the eye unless recommended by a doctor.
Your vision may become temporarily blurred after inserting eye drops. This will clear but do not drive or operate machinery until normal vision is restored.
For use in the eyes only.
Ingredients:
Carbomer, Sorbitol, Sodium Hydroxide, Water.