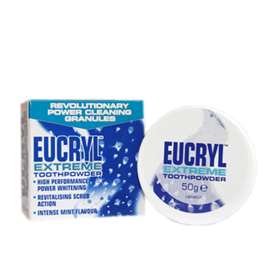 Click on image to enlarge
Please note: This product has been discontinued by the manufacturer.

Eucryl Extreme Toothpowder provides extremely powerful stain removal as well as anti-bacterial action.


50g tub.

Intense mint flavour.

Revolutionary power cleaning granules.

Revitalising scrub action.

High performance power whitening.

Eucryl Extreme Toothpowder is deep cleansing and gets to work quickly on stains caused by coffee, tea, smoking and red wine. The revolutionary formula revitalises your mouth and leaves the teeth clean, bright and smooth.

Directions for Use: Not recommended for children. Wet your toothbrush and shake off the surplus water. Press into the powder. Brush your teeth the way your dentist recommends. For powerful stain removal it is only necessary to use Eucryl Extreme Toothpowder once or twice a week in addition to your normal toothpaste. Avoid use on damaged teeth.

Ingredients: Calcium Carbonate, Maltodextrin, Sodium Bicarbonate, Flavour, Sodium Lauryl Sulfate, Tetrapotassium Pyrophosphate, Tetrasodium Pyrophosphate, Sodium Flouride, Sodium Sachhrin, Triclosan, Limonene, Cl42051. Contains Sodium Flouride (1312 ppm F).