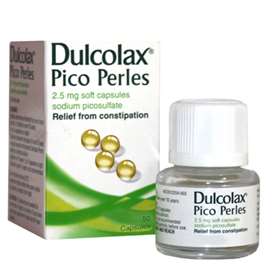 Click on image to enlarge



Price: £3.99 (incl VAT)
Sorry, this item is currently unavailable. Click here to receive notification when this product comes back into stock.
Dulcolax Pico Perles - Gentle overnight relief from constipation - Flexible dosage.
50 Perles.
Easy to swallow.
Gentle on your stomach.
2.5mg of Sodium Picosulfate per tablet.
Works in 6-12 hours.
Dulcolax Pico Perles work in the same way as the Dulcolax tablets. Although the active ingredient is different, the perles are broken down into the same substance as the tablets. Each perle contains a quarter of the maximum dose meaning you can choose the level of relief you need. They gently and effectively provide relief from constipation in 6-12 hours.

Dulcolax Pico Perles are easier to swallow than the tablets and provide you with the same predictable and reliable relief.

Directions for Use: Adults and children over 10 years: 2-4 capsules at night. Children 4-10: 1-2 capsules at night. Children 0-4: Not advised. For childre aged 4-10, the capsules shouldn't be given without medical advise.

Ingredients: Each capsule contains 2.5 mg of Sodium Picosulfate as Sodium Picosulfate Monohydrate Ph. Eur. Also contains Propylene Glycol, Macrogol 400, Gelatin, Glycerol and Purified Water.

Warnings:: THIS MEDICINE SHOULD BE TAKEN FOR MORE THAN 5 DAYS. IF YOU NEED TO TAKE IT FOR MORE THAN 5 DAYS OR IF YOU ARE EXPERIENCING ABDOMNIAL PAIN PLEASE CONTACT YOUR DOCTOR.

Please Note: Dulcolax Pico Perles are the same formula as Dulcolax Perles. The name was changed by the manufacturer to reflect the active ingredient; Sodium Picosulfate.