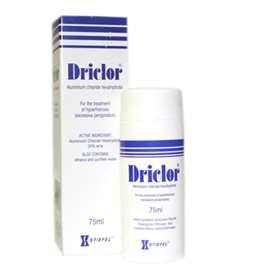 Click on image to enlarge
| | |
| --- | --- |
| Price: £6.20 (incl VAT) | Sorry, this product is no longer available. |
Driclor Solution is a strong, pharmacy strength antiperspirant containing the active ingredient Aluminium Chloride Hexahydrate.


Driclor (75ml) is used for the treatment of excessive heavy sweating, also known as hyperhidrosis. To begin with Driclor is to be applied topically to the affected areas of skin daily, areas such as hands, feet and underarms and then once the condition has improved, once or twice weekly. Normal deodorants can still be used alongside Driclor as it is not a deodorant and does not contain perfume.
75ml clear solution.
Roll on strong antiperspirant.
Contains Aluminium Chloride Hexahydrate 20% w/w.
Treats very heavy sweating.
A pharmacy strength product available without prescription.
Clinically proven.
Safe to use and suitable for use during pregnancy and breast-feeding.
Although this pharmacy strength medicine can be purchased without prescription, care still needs to be taken when using it and in order to obtain the best results. Driclor must only be applied to completely dry skin.

Directions for Use:
SEE LEAFLET FOR ASSEMBLY AND APPLICATION.
When using Driclor for the first time, it should be used once a day, last thing at night. The reason for this being that your sweat glands are least active at this time, this should prevent sweating during the day.
Driclor must be applied to completely dry skin at night time and then washed off in the morning and not re-applied. Normal deodorant can be used as usual.
When the excessive sweating has stopped during the day, cut down to using Driclor just tiwce a week or less.

Cautions and Warning:
Always read the label/leaflet.
Must be applied to DRY skin.
If you notice any side effects not listed in the leaflet, consult your GP.
Do not use if allergic to any of the listed ingredients.
Do not use a double a dose to make up for a forgotten one.
Do not use on sensitive, irritated or wounded skin.
Driclor can stain clothes, so allow to dry before coming into contact with clothing.
Avoid contact with jewellery and metal surfaces as Driclor can cause discolouration.
Avoid contact with eyes, lips and mouth.
Keep out of reach of children.

Ingredients:
Aluminium Chloride Hexahydrate (20% w/w or 185mg/ml), Ethyl Alcohol and Purified Water.