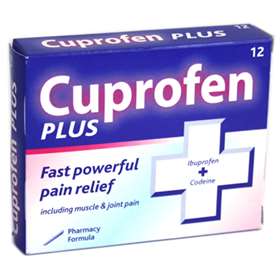 Click on image to enlarge
| | |
| --- | --- |
| Price: £2.29 (incl VAT) | Sorry, this product is no longer available. |
Cuprofen Plus Tablets - Contains Ibuprofen 200mg and Codeine 12.8mg - Fast Powerful Pain Relief.

Provides Relief From:
Muscle and joint pain.
Fibrositis.
Backache.
Tennis elbow.
Sports injuries(e.g. sprains, strains).
Pain due to non-serious arthritis.
Cuprofen Plus Tablets combine two active ingredients to provide you with maximum pain relief. The Ibuprofen works as an analgesic and an anti-inflammatory. The Codeine in Cuprofen Plus Tablets is a strong analgesic which effectively targets pain, making this the strongest preparation you can get without a prescription. Cuprofen Plus Tablets can also be used for headaches, migraine, neuralgia, fever, aches and pains of colds and flu, dental pain and period pain.

Directions for Use:
For oral use.
For adults and children aged 12 years and over - Take one or two tablets with water every 4-6 hours.
Leave at least 4 hours between doses.
Do not take more than 6 tablets in a 24 hour period.
Do not give to children under 12 years of age.
If symptoms persist or worsen seek medical attention.

Warnings:
DO NOT EXCEED THE STATED DOSE.
IF YOU NEED THIS MEDICINE FOR MORE THAN 3 DAYS AT A TIME, SEE YOUR DOCTOR OR PHARMACIST.
TAKING CODEINE TOO REGULARLY CAN CAUSE ADDICTION.
TAKING A PAINKILLER FOR HEADACHES TOO OFTEN OR FOR TOO LONG CAN OFTEN MAKE THEM WORSE.
DO NOT TAKE IF YOU HAVE EVER HAD A STOMACH ULCER, PERFORATION OR BLEEDING OF THE STOMACH.
DO NOT TAKE IF YOU ARE ALLERGIC TO IBUPROFEN, CODEINE OR ANY OTHER INGREDIENT IN THIS MEDICINE.
DO NOT TAKE IF YOU ARE ALLERGIC TO NSAID'S OR IF YOU ARE CURRENTLY TAKING NSAID PAINKILLERS.
DO NOT TAKE IF YOU ARE IN THE LAST 3 MONTHS OF PREGNANCY.

Ingredients:
Ibuprofen, Codeine Phosphate Hemilhydrate, Microcrystalline Cellulose, Hydrogenated Vegetable Oil, Croscarmellose Sodium, Magnesium Stearate, Sodium Starch Glycollate, Colloidal Silicon Dioxide and Lactose.

Please Note: Due to MHRA regulations we can only despatch one box of Codeine-containing products at a time. Multiple orders will not be accepted. Codeine should not be taken for longer than 3 days as this can cause addiction. If you are still experiencing pain after 3 days of using Codeine please see your doctor.