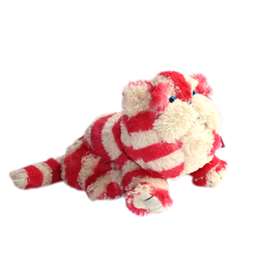 Click on image to enlarge
| | |
| --- | --- |
| Price: £9.49 (incl VAT) | Sorry, this product is no longer available. |
Bagpuss Microwavable Toy.
Express Chemist proudly presents the world's first microwavable Bagpuss plush toy.
Made from treated wheat grains.
Gently scented with lavender to comfort and relax.
Warms in the microwave in minutes.
Temporary relieves muscular aches and pains.
All the materials used are completely microwave safe.
Bagpuss is a world wide recognised cat and loved across the generations. Now you can put Bagpuss in the microwave, heat him up and enjoy hours of comforting warmth.

The Cozy Plush microwavable Bagpuss toy makes a lovely Christmas present for Bagpuss fans or anyone who would appreciate this cuddly character.

Directions for use:
Remove all tags and ensure that the fabric is clean and dry. Heat on 600W-800w for 2 minutes and on 850W-1000W for 90 seconds. Take care when removing from the microwave oven.

Caution:
Always read the instructions.
Not suitable for children under 3 years of age.
Do not overheat.
For microwave use only.
Take care when removing from the microwave oven.
Only reheat from room temperature.
Avoid prolonged direct contact with the skin - can cause burns.



Due to the content of this item, it is with regret that we cannot ship Intelex products to Australia or New Zealand.



Safety Standards:
Manufactured in accordance with EN71-1/2/3/9 and BS 8433 safety standards. Eyes and nose are stitched. Do not put in the oven, microwave only.