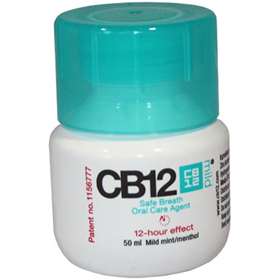 Click on image to enlarge



Price: £4.19 (incl VAT)
Sorry, this item is currently unavailable. Click here to receive notification when this product comes back into stock.
CB12 Safe Breath Oral Care Agent Mild 50ml is a mouth rinse with a unique formula to prevent the causes of halitosis (bad breath).

CB12 Oral Care Agent is designed to neutralise and prevent the formation of Volatile Sulphur Compounds (VSCs). VSC gasses occur naturally in the mouth and are reportedly the main cause of bad breath. CB12's unique formula combines zinc acetate and chlorhexidine diacetate. These two ingredients work together to eliminate VSCs and actively help to prevent bad breath, without harming natural bacteria present in the mouth.
50ml bottle.
Prevents bad breath.
Mild mint/menthol flavour.
Works for up to 12 hours.
Directions for use:
Pour 10ml, rinse for approximately 30 seconds - 1 minute. Gargle, then spit out. Do not swallow. Contains 0.05% sodium fluoride.

Cautions and warnings:
Do not use if you are hypersensitive to any of the ingredients of CB12.
Keep out of reach of children.
Not for children under 12 years of age.

Ingredients:
Aqua, Glycerin, Hydrogenated Starch Hydrolysate, Alcohol, Zinc Acetate Dihydrate, Chlorhexidine Diacetate, Sodium Fluoride, PEG 40 Hydrogenated Castor Oil, Potassium Acesulfame, Citric Acid, Aroma.