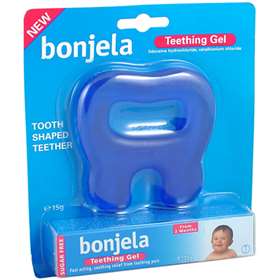 Click on image to enlarge
| | |
| --- | --- |
| Price: £5.39 (incl VAT) | Sorry, this product is no longer available. |
Suitable for 2+ months

The Bonjela Teething Ring & Gel pack contains a fun tooth-shaped teether and a 15g tube of Bonjela Teething Gel.

If your child is teething, they may be getting a little grizzly as their new teeth begin to emerge from the gums. The Bonjela Teething Ring and Gel pack gives your little one something to chew on to satisfy their new found urge to bite, plus an antiseptic, pain relieving gel to soothe any discomfort.

Bonjela Teething Gel is an antiseptic pain relieving gel which can help soothe teething pains prevent minor mouth infections. Its local anaesthetic action acts quickly to relieve pain and soothe sore gums. The tooth-shaped teether can be chilled in the fridge prior to use to provide cool, soothing relief. The Bonjela name has been trusted by families for many years and can always be depended on to help your child through the pains of teething.

Gel containing Lidocaine hydrochloride 0.33% w/w, Cetalkonium chloride 0.01% w/w.
For topical oral use.
Children from 2 months: apply a small amount of gel with a clean little finger to the affected area and rub in gently. Repeat every 3 hours if necessary.
Infants under 2 months: not recommended.
Teether directions for use:
Sterilise before use. Suitable for cold water sterilisation but not suitable for microwave or steam sterilisation. Do not place in the dishwasher. Cool only in a domestic refrigerator; do not place in the freezer compartment. Throw away at the first signs of damage and weakness.
The teether contains sterilised water only and is safe for babies. If any allergic reactions occur, stop use immediately and seek medical advice.
For further information on teething, please visit our teething advice page. If you would like to know more about the Bonjela range, please visit our Bonjela page or our Bonjela FAQs.