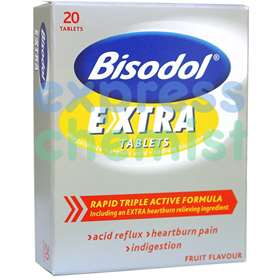 Click on image to enlarge
| | |
| --- | --- |
| Price: £2.54 (incl VAT) | Sorry, this product is no longer available. |
Bisodol Extra Tablets
For acid reflux, heartburn pain and indigestion.
Rapid triple active formula.
Fruit flavour.

Bisodol Extra Tablets have a triple action formula that contains two antacids that quickly neutralise excess stomach acid, plus an extra ingredient to relieve heartburn. Bisodol Extra quickly forms a protective layer on top of the stomach contents to prevent acid rising back up the food pipe, relieving the pain and discomfort of heartburn and acid reflux.

Dosage: Suck or chew one or tablets as required. Not recommended for children under 12 years. If taking other medication or if symptoms persist consult your doctor. Safe to use during pregnancy.

Active Ingredients: Magaldrate 400mg • Alginic Acid 200mg • Sodium Bicarbonate 100mg.