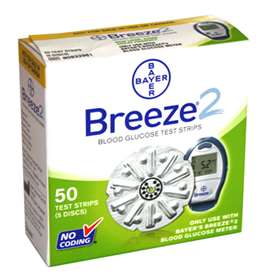 Click on image to enlarge



Price: £19.99 (incl VAT)
Sorry, this item is currently unavailable. Click here to receive notification when this product comes back into stock.
Bayer Breeze 2 Blood Glucose Test Strips are only to be used with Bayer's Breeze 2 Glucose Meter. Used for testing the amount of glucose in the blood.
50 Strips, 5 Discs.
No coding.
Only to be used with Bayer's Breeze 2 Glucose Meter.
Convenient multi-test disc eliminates individual strip handling.
Individually sealed strips for protection.
Results in just 5 seconds with accuracy you can trust.
Bayer Breeze 2 Glucose Test strips could be useful for any diabetic person considering increasing their amount of physical activity or who live an active lifestyle or perhaps whilst travelling.

Caution:
Bayers Healthcare does not warrant use of Bayer's Breeze 2 blood glucose meter with any test strip other than Bayer's Breeze 2 glucose test strips.
For complete warranty information, refer to User Guide.

Directions for use:
Open the meter. Open a new 10-test disc package and insert in the meter, bumpy side up. Align the 5 notches on the disc with the tabs on the meter.Close the meter and
snap it shut. Keep the meter flat when closing it.

Reagent:
10% w/w Glucose Oxidase (Aspergillus niger, 24 U/mg), 68.5% w/w potassium Ferricyanide, 21.5% w/w non-reactive ingredients.