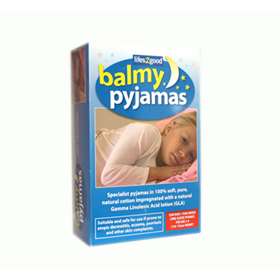 Click on image to enlarge



Price: £27.99 (incl VAT)
Sorry, this item is currently unavailable. Click here to receive notification when this product comes back into stock.
Balmy Pyjamas For Age 5-6 (110-116cm Height) are made of soft natural cotton and help to soothe itchy skin and prevent fingernails from scratching.

These specialist pyjamas are made with 100% pure natural cotton which ensures a good nights sleep in soft comfortable nightwear. The pyjama top and bottoms are impregnated Gamma Linolenic Acid (GLA) Lotion which help to soothe itchy skin conditions such as eczema, atopic dermatitis and other itchy skin condition. Gamma Linolenic Acid is naturally occurring in vegetable oils, for example Evening Primrose Oil, and is said to aid in soothing the symptoms of eczema, dermatitis and psoriasis.

Each pack contains Contains 1 pair of unisex pyjamas with a long sleeved top and long legged bottoms, for age 5-6(110-116cm height) that are suitable for children who are sufferers of, or prone to eczema, atopic dermatitis, psoriasis and other itchy skin


Care labels and seams on the outside of the garments to prevent irritation on sensitive skins.

100% pure natural cotton which allows the skin to remain cool and able to breathe.

Garments impregnated with GLA which aids in skin moisturisation.

Helps towards a restful night's sleep.

Covers irritated areas and prevents night scratching.

Balmy Pyjamas will last up to 1 year or 100 washes* before the GLA impregnation within the fabric decreases.
Must be washed in non-biological detergent.

Due to the nature of this product please note that this item is non-returnable. Please measure your child prior to purchase to ensure the correct fit.