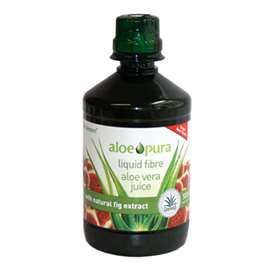 Click on image to enlarge
| | |
| --- | --- |
| Price: £6.99 (incl VAT) | Sorry, this product is no longer available. |
Aloe Pura Aloe Vera Liquid Fibre Juice 500ml helps to maintain regularity of the digestive system. Aloe Pura Aloe Vera Liquid Fibre Juice is a unique blend of aloe vera, soluble fibre and fig extract which is a great tasting and convenient way to help maintain bowel regularity and proper function.
500ml.
Unique formulation, used as a soluble dietary fibre/prebiotic.
Contains aloe vera juice, soluble fibre and fig extract.
Cleanses, detoxifies and regulates.
10 servings.
Aloe vera is well documented as a cleanser and revitaliser for a wide range of ailments. It cleans out the intestines and detoxifies the body as well as stimulating and supporting the immune system. Not only that, but aloe vera can also aid with the absorption of vitamins and minerals in your intestine.

Fibresol2 is a water soluble fibre made from 100% natural corn starch which aids digestion. It is low in calories and is effective in promoting the growth of friendly bacteria in the gut, whilst being gentle on the stomach. It helps to keep the intestinal wall free from debris which allows it to absorb the nutrients needed to nourish your body. Fig extract is well known for its benefits to maintaining bowel regularity.

Directions for use:
Take 50ml neatly or diluted if preferred. Each 50ml serving contains 8g of Fibresol 2. Avoid drinking if pregnant of breastfeeding. Not suitable for infants. Shake well before use.

Ingredients:
Aloe Vera Juice*, Water, Fibersol2, Fructose, Fig Extract, Antioxidant: Ascorbic Acid, Preservative: Potassium Sorbate, Citric Acid, Natural Flavouring. *Without bitter aloin.